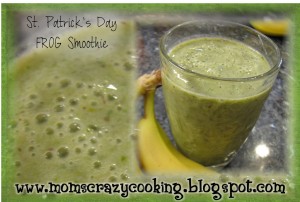 GREEN food day (St. Patrick's Day) was coming and I thought this recipe was perfect (plus I had some left-over spinach in the refrigerator)! This smoothie is so sweet and as long as you can get past the GREEN color, it is actually one of the best smoothies I have ever made.
Green Frog Smoothie
2-4 cups spinach or other greens (I use mixed spinach and arugula)
1 banana
1/4 cup crushed pineapple
1 tbsp Honey
1 Vanilla Yogurt
Fill food processer (works MUCH better then a blender) with greens and a few tbsp of water. Pulse to blend until the greens turn to liquid greens. Add in banana, pineapple, honey and yogurt and continue to blend until smooth. Pour into the glass and serve!
http://momscrazycooking.blogspot.com/2011/03/this-weeks-cravings-linky-party-20-go.html