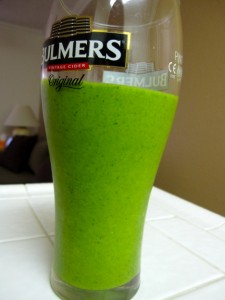 Alyssa's Green Monster:
I bravely tried my first Green Monster about 5 weeks ago and, since then, not a day has gone by where I haven't had at LEAST one of these delicious treats!  Yes, you heard me right.  I just referred to a drink whose main ingredient is spinach as a treat!  Believe me, this healthy blended concoction is nothing but delicious.  I've taste-tested a few different "recipes" and have found my perfect Green Monster.  I try to start off each morning with this drink – it's incredibly delicious, it's filling and it's healthy!  Kermit's crazy – it's easy to be green!
- 1 cup Unsweetened Almond Breeze
- 1 frozen banana
- 2/3 large handfuls of spinach
- 1/4 cup dry oats
- 1/4 cup water
Blend it.  Sip it.  Love it.