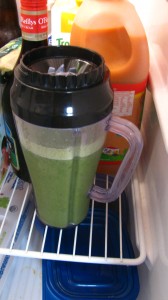 My boyfriend and I eat green monsters a few times a week and are trying to up our intake. We have 2 favorites, and this one is mine:
2 heaping handfuls of spinach (probably 2 cups?)
Odwalla green machine juice
Orange juice
about 1/2 cup blueberries
3 large carrots, cut up
Delicious!!