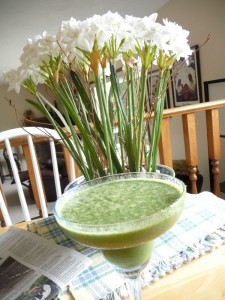 Katie's Green Monster
I had heard of putting spinach in smoothies before, but thanks to Angela's blog became encouraged to begin having one every day (sometimes twice a day!).  I've been doing so for a month now, experimenting with lots of different add-ins.  It's hard to go wrong with these smoothies! They are THAT awesome.
I've even completely replaced my morning coffee with GM's and feel better than ever!
My Basic GM recipe:
3 big handfuls of spinach
1c unsweetened almond milk
1 tbsp peanut butter
2 tbsp ground flax
1 small-ish banana
1 scoop "Vege-greens"
Cantaloupe with almond butter is also FANTASTIC!
Thank you, Angela for the inspiration!  I'm completely addicted! 🙂