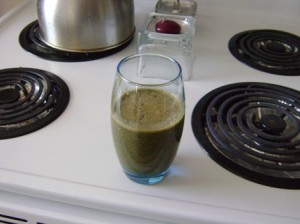 Angi's Green Monster:
I admit to being a timid GM follower. I usually keep it simple; Protein powder, chocolate soy milk, banana, and spinach.
But reading all the entries got me thinking I should move on to trying new monsters.
This monster tastes MUCH better after spending the night in the fridge!
1 cup frozen mango cubes
1 medium banana
1 scoop protein powder
1 cup vanilla soy milk
1 tsp flax oil ( or ground flaxseed)