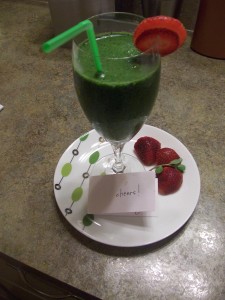 Candice's Green Monster:
I started experimenting with green monsters when I first began following your blog a few months ago.  I've tried a lot of different combinations, but I always come back to the most basic one…and I love it!!!  Thanks so much for the idea, and also for sharing about Amazing Grass.  AG has intensified the benefits of my green monster exponentially!!
My favorite recipe:
1.25 cups light soy milk
two huge handfuls spinach
1 scoop amazing grass
one small handful blueberries
ice
My husband surprised me by making me this gm one morning!