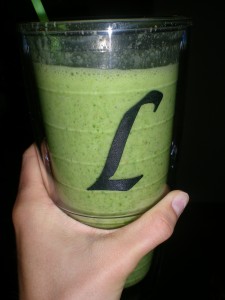 Lauren's Green Monster:
I love all things green monster, but this is my current favorite! I posted about it today on my blog!
Peach Pie Green Monster:
-1 peach
-1/2 frozen banana
-1.5c. light soymilk (any milk works, of course!)
-2c. spinach
-1T peanut butter (any nut butter also works!)
-1 scoop Amazing Grass Green Superfood (original flavor)
-dashes of cinnamon, nutmeg and ginger, heaviest on the cinnamon!!