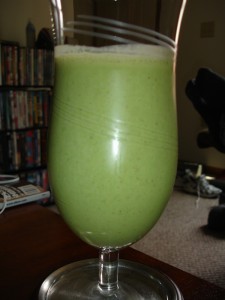 Nicole's Green Monster:
Hi Angela!
I wanted to submit a picture of my favorite Green Monster!  My recipe
is really basic, but I couldn't pass up the chance to win this Amazing
Grass package!  I have experimented with adding blueberries,
raspberries, and strawberries, but this mixture is my favorite so far:
– 2 huge handfuls spinach
– 1 scoop milled flax
– 1 banana (the more ripe, the better!)
– 1 cup vanilla soymilk
– 1 big scoop of peanut butter
– 4 ice cubes
So refreshing!!  Thank you introducing me to Green Monsters!  I am now
obsessed and must have one every day.  I don't think my husband really
"gets" it yet, but I'm working on it!
Thanks!
Niki