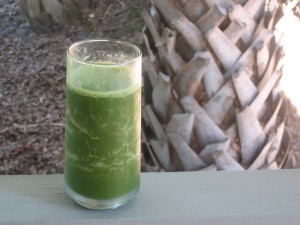 Allie's Green Monster:
Hi Angela,
Allie's Green Colada Monster
1/2 cup pineapple
1/8 cup lite coconut milk
1/2 cup unsweetened almond milk
1 dollop of Greek yogurt
1/2 banana
2 tbsp ground flaxseed
3 cups spinach
water (if needed, to make it move!)
ice
My day is not the same without a green monster in my system!  I crave the nutrient rush that I get from them that sends me on my way every morning.  I love the classic GMs but sometimes when I'm in the mood for a Caribbean drink this definitely hits the spot. I love how versatile they are–pre-workout snack, post-workout snack, breakfast, afternoon pick me-up, dessert, you name it!  I tell everyone I know about these guys…and although they give me quirky looks, they later admit they love 'em (after they taste how amazing they are!). Thanks, Angela!