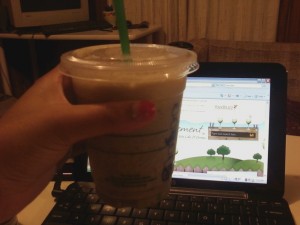 Sana's Green Monster:
I just had my green monster V-card taken!!!!  Not gonna lie making this was TOUGH veggies in my MILKSKAKE??? How is this supposed to bring all the boys to the yard???
But i did it and tricked my self with a Starbucks cup :)!
What did this bad boy have?
-Blueberries
-Starwberries
-Baby spinach
-Peach
-Fat free milk
-Pure honey
I did my body good :)!