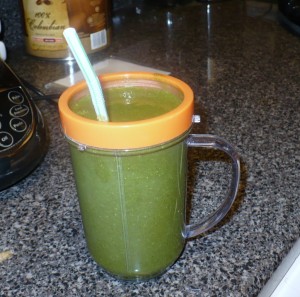 Andrea's Green Monster:
Hi Angela!
Here's my Pineapple Strawberry Banana Green Monster:
2 Large handfuls of spinach
1/2 cup frozen pineapple
1/2 cup frozen strawberries
1/2 ripe, frozen banana
1 1/4 cup unsweetened almond milk
1 Tbsp chia seeds
1 Tsp coconut oil
1 scoop Amazing Grass drink powder
Throw it all in the blender and blend away!  I've been drinking GMs for about 4 weeks now and I've noticed a HUGE increase in my energy, especially in the mornings! I used to drink a couple cups of coffee to start my day, but I've noticed that I have no desire or need to drink even a single cup after having the GM.  I love love love my GMs!!
Thank you for inspiring so many people to live healthier lives! Have a wonderful evening!
Andrea