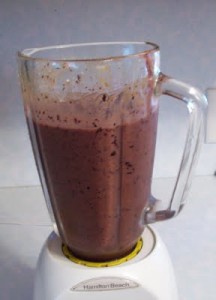 Mary's Green Monster:
This is one of the easiest and one of my favorite smoothie recipes!! I call it the GO GREEN smoothie because I made it first at my Mom's place and we loaded it with greens!
Smoothies are so easy to make and easy to pack tons of wondering nutrient rich ingredients into! They taste delicious, are quick portable too. No worries about missing breakfast if you whip this up the night before and keep in the fridge. Just put it back on the blender and spin a few times to mix it in the morning and off you go!
Ingredients:
2 Cups of spinach
2 Cups of frozen Tropical Mix fruit
2 Cups of fresh Blueberries
1/2 C. of Rice Dream rice milk
1 packet of Electro Mix, electrolyte sport mix