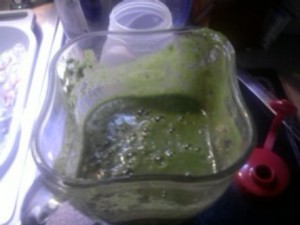 Debbi's Green Monster
I usually have a green monster every morning. My recipe make a quart so, I drink it all morning at my desk.  My co-workers usually wrinkle their noses at it, with out even trying it. I just love it.
 Put the following in your blender: 2 cups water, 3 handfuls of spinach, 1 handful kale, mix – 1 apple sliced, 1 necterine (or 1 cup other fruit), 1 banana, 1 Tablespoon flax, 1 teaspoon cinnimon – mix
Since I take it to work I pour it into a container and then drink glasses at work.