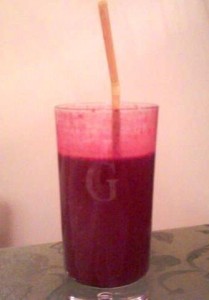 Rebecca's Green Monster:
I love green monsters and have them in the mornings if I'm feeling sluggish or ate not so great the night before. This morning I added:
1 cup spinach
1 very ripe banana
1 TBSP ground flax
1 cup skim milk
and when I looked through the fridge I found a small beet from the batch I roasted earlier this week that was begging to go in – so I threw her in!
My 'green' monster came out dark pink – it was very good and the beet added a nice interesting flavor to the mix.