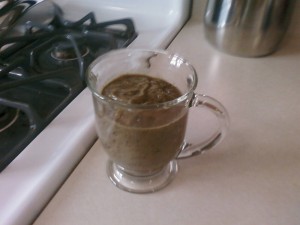 I've been reading about the Green Monster on OSG for at least a year but thought it would be disgusting.  A few months back Angela shared her story of how the Green Monster got started in the first place.  I posted a comment saying that the story was so touching it actually made me CONSIDER making a Green Monster.  Well, I received a new blending device for Christmas and finally, today I made my very first Green Monster (though frankly it was more green in person than in this picture!).
Mine consisted of:
A very large handful of spinach
Some frozen blueberries, pineapple and a banana
Vanilla almond milk
I actually thought it was rather tasty and agree with others, could not taste spinach at all.  I forsee more Green Monsters in my future!  Thanks Angela!