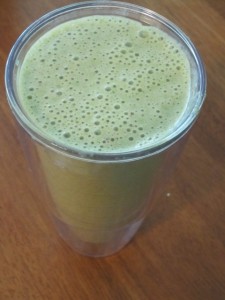 Inspired by intuitive eating and listening to my body, I woke up this morning craving greens! Since I do not own a juicer, I figured i'd do second best and make my first green monster! I used what I had in my fridge and luckily it was absolutely delicious!
3 c chopped kale leaves
1/2 scoop vanilla whey protein powder
1.25 c Light Vanilla soymilk
5 strawberries
1/2 banana
5-6 cubes of ice
Blend for 2-3 minutes on the ice chop/food process setting and enjoy!