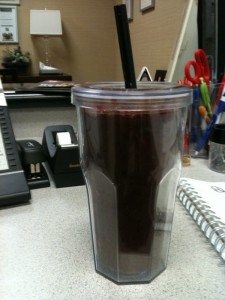 I found out about green monsters by reading food blogs, and finally tried one a few weeks ago. Then I found your website, and noticed you say that your hair and nails grow like weeds! I noticed my hair and nails are too but didn't put it together with the smoothie! Here's my recipe–I don't use protein powder. I eat one with lunch of turkey and cheese and veggies, so get my protein there. I just don't like how the powder ups the calories so much.
makes 16 oz smoothie:
2.5ish cups spinach
1/2 banana
1.5 C strawberries and blackberries
splash milk
handful ice cubes
it's not green, but it does have a lot of spinach!