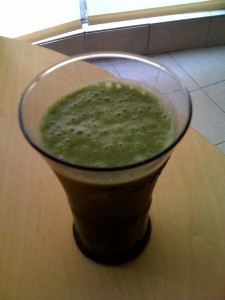 Hi Angela!
I started experimenting with Green Monsters last summer, and now that the sunny days are back, so are these Glasses of Green Goodness!
The one I had this morning contained:
– A big handlful of spinach
– 1 small frozen banana
– 1/2 cup orange juice
– 1/2 cup unsweetened almond milk
– 1 TS blueberry ground sprouted flax seed
(in a Coke glass, how ironic is that?)
YUMMY!