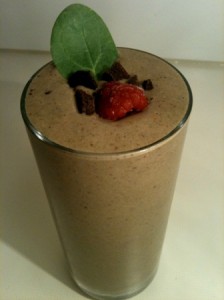 Been drinking Green Monsters every morning since I discovering them on OSG and can honestly say that it was the most perfect timing,
end of semester=stress overload
stress overload+green monsters=energy to push through to the end
Not only that, but it is perfect time for summer, have more energy to get back on the path and start running again. It's been way too long.
Thanks for the awesome recipes everyone here is one of my own that I like to call:

Raspberry Ripe

Couple handfuls of spinach
1/2 cup of frozen or fresh raspberries
3/4 cup of your choice of milk (or depending the consistency you like)
1/4 cup of coconut milk (or to your taste)
tsp of carob powder
2 tsp ground flax seed
I threw in some left over carob chips that I had from when I made the raw vegan chocolate chip cookies, adds a nice surprise and some sweetness.