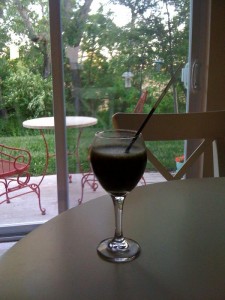 Dear Angela,
    After a full week of reading your (and your reader's) Green Monster recipes and beating around the bush, I went out and bought a blender.  And you were absolutely right – my green monster ended up tasting divine!
Since this was my first try at the GM (and with a blender), I decided to go with your blueberry-banana version since it included more fruit than veggies (a happy thought for a newbie):
2-3 cups organic spinach
1-1.25 cups milk (cows, soy, hemp, almond, rice, etc.)
1 tablespoon flax (optional – but I added it)
1 banana
1/2 cup blueberries
ice (7 cubes gave a good consistency)
The photo makes it look a little murky since it's backlit, but it was actually a really fantastic and not-at-all unappetizing green color!  Thank you for your website – I can't wait to try out the other recipes!
Kate