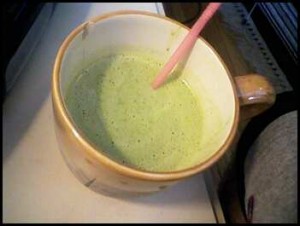 Hey Angela!
I wanted to share a cute Green Monster story with you
My boyfriend has decided to try to ramp up his veggie intake.  That, couple with his recent diagnosis with anemia, has lead to me turning him into a GM convert!   He really likes them and has started making GMs in his magic bullet.  He even texted me a photo of one of his GM creations.
Of course, like a man, he tweaks the recipe to be more DARING.  Some extra peanut butter here.  A little protein powder there.  Well, today he tipped me off the the mother of all GM experiments. 
Verbatim email:
So I've invented a game with the green monsters called "how much spinach?"
It goes like this:
1. Make your normal green monster.
2. Have a sip.
3. If it tastes good, add more spinach.
4. Repeat steps #2 and 3 until it does not taste good.
He's a regular mad scientist, I tell ya! 
Thought you'd appreciate.  Have a fantastic night!!