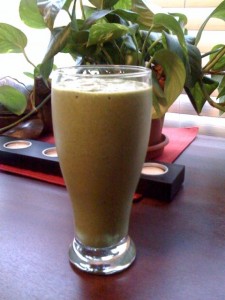 Hi Angela!
This is my FIRST EVER GREEN MONSTER!
Ingredients: 1 ½ cups hemp milk, 3 cups spinach, 1 cut-up frozen Persian cucumber, ¼ avocado; 1 T coconut butter, 3 ice cubes, 1T ground flax w/ chia, ½ scoop Amazing Grass = Thick and creamy, very mild tasting, AWESOME! 
 I had it 4 hours ago and I still feel full! Mmmm….. all that healthy fat 🙂 Can't wait to experiment with more combinations!