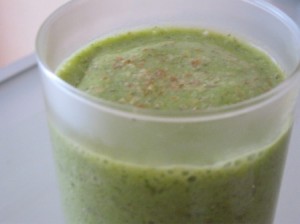 Before I had my first green monster, I thought they looked gross and I had no intention of ever drinking one! Then, since I had some leftover spinach, I decided to try and ended up loving it!
Ingredients:
   * 1 tbsp chia seeds
   * 1 tbsp wheat germ + more to sprinkle
   * 2 cups spinach (raw or steamed)
   * 1 frozen banana
   * 5-6 pieces frozen mango
   * 1 cup unsweetened vanilla almond milk (or your milk of choice)
   * 1 pinch cayenne chili pepper (optional)
  1. Put all the ingredients in a blender, in the order listed. Blend until smooth.
  2. Sprinkle with wheat germ and enjoy!