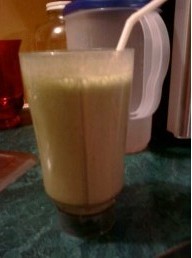 I made this 2 weeks ago. I didn't want to submit right away, I had to make sure I believed what I was going to write. I seriously needed to get some more superfoods in my diet, and visited a raw food cafe not too long ago and get a green smoothie there. I came home and immediately experimented and this is what I got. Delish
This was made with:
1 banana
1 c spinach
1c kale
8 oz vanilla almond milk
5 frz. strawberries
1 t flax oil
1 scoop vegan protein powder
It was so good. Even my son, who has an aversion to anything green even asks me to make them for him!