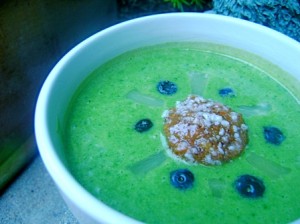 Growing up, I was the kid who never wore shoes, intentionally splashed through puddles and constantly had dirt under her fingernails.
Fortunate for me, this was perfectly fueled by the fact that my family lived near and extensive area of wetlands. In the summers I attended a nature camp and, when I was lucky, my dad would even take me on "frog hunting" trips.
I didn't mind getting a little swamp water in my shoes. In fact, I even relished it.
In time I've learned to clean up a bit, but I still maintain a passion for an occasional dosage of mud.
However, for as much as I loved the murky, green waters of my childhood, I never thought that same descriptor could be used in talking about good food.
The legendary "Green Monster" has been sighted on many a blogs. Although many of my trusted sources raved about the drink, I was still hesitant.
Last week, fueled by a little nostalgia for the swamp-wading days of my youth and fueled a lot by the awesome sale my grocery store was having on spinach, I decided it was now or never: I was going to have a Green Monster sighting of my own.
After one quickly blended batch of spinach, bananas, peanut butter and almond milk, I was hooked.
After a few days of making a pretty standard version of the GM, I was willing to venture into swampy territory of my own by making a different version.
Limey Green Monster
Ingredients:
   * 4 ice cubes
   * 3/4 C unsweetened almond milk
   * 1/2 frozen banana
   * 3 large handfuls spinach
   * 1 T PB
   * 1 small fat-free lime flavored yogurt
   * Toppings: Fresh fruit, dried fruit, granola, cereal, etc.
Directions:
   * Combine ice, milk and banana in a blender. Thoroughly crush.
   * Add in spinach and continue blending, stopping to stir occasionally.
   * Add PB and lime yogurt. Blend to desired consistency.
   * Pour into glass or bowl, top with add-ins and enjoy.
I topped my Green Monster with pineapple, blueberries and a leftover chai carrot cupcake. In addition to a Green Monster spotting, there were also hungry cats and bunnies on the prowl.