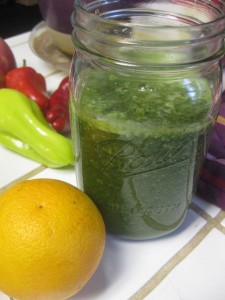 I've been trying to make a green monster ever since I discovered your "movement".  But the problem was, I was so used to putting all kinds of nut butters and frozen fruits into my smoothies that I never got a green monster.  It was usually brown or purple.  Well, after experimenting this week with more greens, and less others stuff, I used yesterday's CSA box as the perfect green monster embryo!
Ingredients:
1 banana
5 pitted medjool dates
1/4 c frozen blueberries
1/2 tsp. spirulina powder
1/2 tsp chia seeds
1 large kale leaf
2 large chard leaves
10-15 large spinach leaves
5 large rapini leaves
(basically one heaping plate full of leafy greens)
Blend until dates disappear!