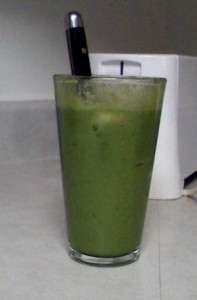 I stumbled across this site by accident, and instantly wanted to try one. I'm always looking for great ways to start my day and stay healthy. I'm a bit short on funds for the whole organic world and to get all the recommended ingredients, but I made due with what I had.
My recipe was a handful of spinach, 2 stalks of kale, a cup of lime yogurt, lime juice, 8 baby carrots, 1 banana, and about a cup of light organic soymilk.
Turned out pretty good! Initially, the greens wouldn't blend (my blender stinks) and the lime flavor wouldn't come out. The texture was really horrible. However, adding the banana fixed both of these things! It's still a bit too gritty, but it tastes great! Added some ice at the end to bring out the flavors.
I think tomorrow I'll try some peanut butter and mango! I'm strange like that!