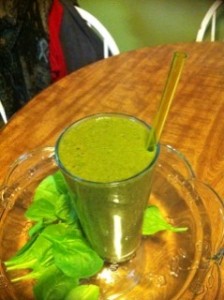 Today I started the day as a frustrated 35 year old woman.  I quit smoking in April of '09 and am so thankful to have kicked that nasty habit!!! Unfortunately, that victory came with a price tag to the tune of a 45 pound weight gain in about 12 months.  Everyone I have spoken with has insisted that the health benefit of smoking cessation far "outweighs" the burden of becoming severely overweight.  I agree, instantly!  However, being 175 pounds and 5'1″ at the age of 35 feels sad.  I have never been "skinny", but never really worried about my weight.  I enjoy eating, graduated from a top Culinary school, and am an advocate of eating healthy.  I am happily married and the proud parent of two great, encouraging, loving kids (ages 9 and 11) who insist i am more beautiful today than ever!  
Lately, though,  I feel like if I don't do something really great for myself, I might not be the active, awesome, grandma I look forward to being.  At this point, it IS about the weight but more about my HEALTH!!!  It is a known fact that smoking robs your body of nutrients, and today I actually apologized to myself for treating me so bad for so long.  To make an excruciatingly long story a bit shorter, I was surfing the web looking for a Pumpkin Gingerbread recipe.  I wanted to make use of the beautiful pumpkins I had purchased and been given.  Maybe use them for holiday gifts?!  Anyhow, Ohsheglows was the second site listed on Google, so I clicked…..and two hours later, after reading your blogs…Voila I have imbibed my first Green Monster!!!
I AM SOOOOO GLAD I FOUND YOUR SITE!!!! When I read about your outlook on exercise and healthy eating, I thought, she must be my long lost sister!LOL! JK.  I look forward to reading more and beginning my journey into fun, fitness, and transformation!!!  Oh, BTW, my Green Monster consists of: 3 handfuls of baby spinach, a banana, a squirt of agave, 1/4 c frozen leftover berry smoothie(vanilla yogurt, raspberries, blackberries, blueberries, agave), 4oz. cranberry grape juice, dash of allspice, and an accidental glob (1Tablespoon?) of cinnamon……DELISH!!!!!